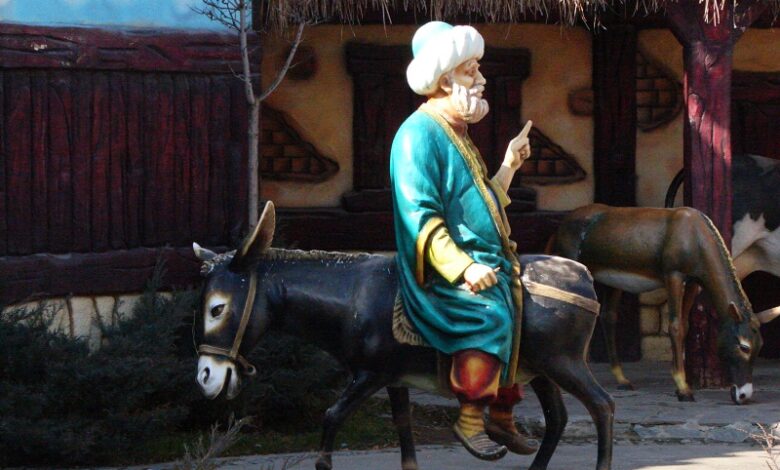 Za duhovitoga turskog šaljivčinu, legendarnoga Nasrudin-hodžu, kažu da je jednom sjedio pred svojim dućanom, kada ga je posjetio prijatelj da mu kaže veliku novost…. 
"Upravo se kanim ženiti, pa sam vrlo uzbuđen. A jesi li ti ikad pomislio da se oženiš?" upita Nasrudina, koji mu, nakon kratkog razmišljanja, odgovori: "Da, kako da ne! Kad sam bio mlad, čak sam to snažno želio. I pošao sam na put potražiti savršenu ženu, sve tamo do Damaska. Tamo sam upoznao ženu, dražesnu, ljubaznu i jako duhovnu, ali nije poznavala svijet. Odustao sam i pošao dalje. U drugom sam gradu susreo ženu koja je bila i duhovna i svjetovna, i lijepa u svakom pogledu, ali nismo uspjeli porazgovarati. Na kraju sam dospio i do Kaira i nakon mnogog traganja našao sam savršenu ženu. Bila je duboko religiozna, dražesnog izgleda, a razumjela se dobro i u svjetovne stvari. Bio sam uvjeren da će to biti savršen brak."
Prijatelj znatiželjno upita: "Pa zašto se onda niste i vjenčali?" Nasrudin-hodža u svojem poznatom stilu odgovori: "Vidiš, prijatelju, ja sam našao savršenu ženu, ali je i ona tražila savršena muža."
Voljeti znači prihvatiti drugog sa svim njegovim svijetom, sa različitostima, sa nedostacima, a savršeni brak nikada nije kopija nedozrelog sanjarenja. Savršeni muž je onaj koji ne očekuje savršenu ženu. I obratno.
Akos.ba